What is Firstcry?
Firstcry is Asia's largest online store for baby and kids products. We cater to the needs of our buyers (mothers buying for their kids) from before the kid is born upto his/her early teens. 
What is the benefit of buying from Firstcry?
Our company philosophy is pretty simple: We want to offer the best possible deal for our customers for the products that we all want to buy for our children. Our endeavour is to ensure that you get the widest possible choice of top rated brands and products at the best possible price anywhere in Bahrain, Oman and Kuwait combined with best possible service and timely delivery of products at your doorstep.
What products does Firstcry sell?
We sell products of all the leading brands for babies and kids across sections right from diapers, baby food, infant accessories, gears (strollers, high chairs), nursery furniture, clothes & footwear to toys and school products. We also stock items from some of the leading importers and domestic manufacturers of the country. The items undergo a thorough check by our QA team before they are stocked. 
What's the minimum order value required to place an order?
To place an order, a minimum order of OMR 0. There is No minimum order value.
How do I know my order has been confirmed?
After checking out during the payment process, you will get a confirmation that your payment has been processed successfully. You will also get a mail in your registered email id, along with an SMS to your registered mobile number confirming the order.
How do I check my order status?
We will ship your package within 24 hours of receiving the order. We will also mail you the name of the courier company and the tracking number of your consignment to your registered email address. You will receive an SMS about the same. In case you do not receive an email from us within 24 hours of placing an order please check your spam folder. Tracking may not appear online for up to another 24 hours in some cases, so please wait until your package is scanned by the courier company. Alternatively, you can check the same in My Account page, where Track Shipment option gives you the current status of your order being shipped.
Is it safe to use my Credit Card Online at Firstcry.om?
We accept VISA, MASTER and AMERICAN EXPRESS Credit Cards issued in Oman and we accept Debit cards of all banks issued in Oman. International credit/debit card transactions are also accepted through CCAvenue, so now you can place orders with Firstcry from outside Oman and we will ship it to your dear ones in Bahrain,UAE and Kuwait. All your transactions online are protected & secured by SSL (secure socket layer) technology from GoDaddy.com. It encrypts your credit card and relevant information during the entire transaction process. This encryption makes your shopping experience safe and secure.  
What if an item is out of stock?
We make every effort to keep all products in stock. However, there may be times when unexpected demands exceed our supply. We will notify you at the time of check out if the item selected is not in stock. In the rare circumstance where the order has been accepted and due to some reasons we are not able to ship, we will notify you within 24 hours and the money will be returned to you in the same mode by which the payment was made within 10 working days. Some items (which are restocked regularly) and is temporarily out of stock may appear on display with an out of stock tag. You can use the Notify Me option and we will inform you once the product is replenished and available for sale. 
Are there any other hidden charges like Octroi or Entry tax?
Yes, there is Cross border charges which is shown during check out. Cross border charges are inclusive of Import Duty.
How are the products packaged?
Each of the individual products are securely packaged in bubble wrap and put into a box. The box is sealed well ensuring a safe delivery to your doorstep.
Do you deliver products outside OMAN?
We do ship products to Kuwait, UAE and Bahrain. Just select respective country to get delivered to required country. But the site is accessible to all and we do take orders from around the world provided the shipping address is in Kuwait, Bahrain and UAE. 
Is it mandatory to register before placing an order?
You can place your order by just providing us with your email address. However, it is recommended that you register with us in order to receive timely offers and also to maintain your Wishlist and account & address details.
How long will it take to receive my orders?
The estimated date is given on the product description page and on cart also. Your order will reach you on or before the mentioned date on cart & Product. In case the customer is not available at the mentioned delivery date, the customer can reschedule the order from
Order History
before it is out for delivery. However, there might be delays due to logistic challenges beyond our control. FirstCry does not guarantee timely delivery in such circumstances.
Can I ship different items in my order to different shipping addresses?
We can only process one shipping address per order. So, if you would like to order several items and ship to different people, please treat these as separate orders.  
Who pays for the shipping charges?
User pays the shipping charge and the Charge depends upon the weight of the order.
Click here
To know more about shipping charges. 
What is Import Duty ?
Import Duty is Tax imposed by or paid to the Government on goods bought in one country from another country or basically importing goods from a different country. And these charges depend upon the total order value and shipping country.
Click here
To know more details on import Duty to be paid by you while purchasing on Firstcry.om or visit our shipping policy.
Will my Duty amount be refunded on Order Cancellation and Returns? 
On Cancellation, If the cancellation is placed before order is shipped, the entire amount collected, including the Duty portion, will be returned to customer's source method at the time of Cancellation.
In case of Return, Duty amount is non refundable.
What happens if I am not available at the time of delivery?
In case the customer is not available on the delivery date, the customer can reschedule the order delivery date from the
Order History
page.
What is your Return Policy?
We have a 30 days return policy for Clothes & Footwear and a 7 days return policy for all other items except for Personal Products such as Diapers, Wipes and Creams, all of which are non-returnable.
For more details, please
Click Here
What options do I have while making payment?
We accept payments by debit or credit card and Cash On Delivery(COD).
Credit Cards & Debit Cards -
 We accept VISA, MASTER and AMERICAN EXPRESS Credit Cards issued in Oman and we accept Debit cards of all banks issued in Oman. International credit/debit card transactions are also accepted through CCAvenue.
You can also pay through Cash On Delivery (C-O-D)
- You can also pay through Cash On Delivery (COD). In this case you pay in Cash to the courier person while accepting the goods. There is no minimum order value for COD..
1. What information is saved on opting for save card functionality?
Credit card number, card holder name and expiry date is saved in a secured vault on opting for save card functionality.
2. Can I delete my saved cards?
Yes, user can delete the saved card at any point of time from the checkout page by clicking on the bin-icon against the saved card .
3. What's the maximum number of cards that can be saved?
User can save a maximum of 10 cards.
4. How do I save my cards?
User has to select option for "Express Pay" while making the final payment on Firstcry. On clicking, the card details provided by the user (i.e. Card number, card holder name and expiry date) are pushed and saved in to a secure PCI DSS compliant vault.
5. How do I make payment using saved cards?
User can view all his/her saved cards on checkout under the credit/debit cards tab. This information is protected behind login. User has to login to site in order to view the saved card details. Next step is to select one of the saved cards, provide CVV and click on make payment button to complete the transaction.
6. Can I use a new card which is not yet saved for making payment?
Yes, our system supports payments through both new and saved cards. In case you have a new card which is already not saved with us, then you can use the same as well for making payments.
7. Is it mandatory to save cards?
No, user can decide whether they want to save their card info or not.
8. I am unable to view my saved cards in checkout?
Please ensure the below while checking your saved card info on checkout
User should have a registered account on Firstcry.
User should be logged in to that registered account.
This feature is currently not available under Guest Checkout due to security reasons.
9. Can saved cards be used on mobile site and apps?
Yes, users saved cards are linked to the registered email id and are accessible on FirstCry mobile site and Apps as well. 
10. Is it safe to save my cards on checkout?
Your card information is saved in a Card Vault with CCAvenue, which offers multiple payment options including Credit Cards, Debit Cards (All MasterCard /Visa /Maestro )and Amex EzeClick.They provide secure protocol between Firstcry and the online payment gateway providers.
11. What happens to saved expired cards?
User will see clear messaging in checkout against the saved expired cards. User has to ideally delete these cards and add new cards for payment processing.
12. Whom should I contact if I had opted for save card but my card information was not saved?
Please visit our Contact Us
page and drop your query details to our customer care team for further action.
Shop 'n' Earn Loyalty Cash F.A.Q.s
1. What is the Loyalty Cash Program?
The Loyalty Cash Program is a special Rewards point system on Firstcry.om. On purchasing some products from this site, you will earn Loyalty Cash, which can be redeemed against your future orders. All you have to do is create an account on Firstcry.om and shop for your favourite products and start earning Loyalty Cash. 
2. How do I earn Loyalty Cash?
Go to Firstcry.om and search for your favourite products. You will see the Loyalty Cash available against the product. On purchasing the product, the loyalty cash for the product will be automatically added to your account within 48 hours of being successfully delivered to you. 
3. How is my Loyalty Cash calculated?
Your earned Loyalty Cash varies based on the products bought by you on Firstcry.om. The Loyalty Cash against the product, if available for that product, is aimed at maximizing the value provided to you. If you have availed any offer which provides product(s) for free in your order, you will not earn Loyalty Cash for that product.
4. How do I redeem my Loyalty Cash?
You can redeem your Loyalty Cash against your entire amount, up to the amount of Loyalty Cash you have, once you have earned a minimum of OMR 2 as Loyalty Cash through your purchases. You can redeem your Loyalty cash on Firstcry.om. Eg: If you have earned OMR 5 as Loyalty Cash, you can use the entire OMR 5 to order any product from Firstcry.om. You can redeem your loyalty cash even in orders in which you have availed of any other offer. The option to redeem your Loyalty Cash would be available to you when you are going to pay for your purchases as shown: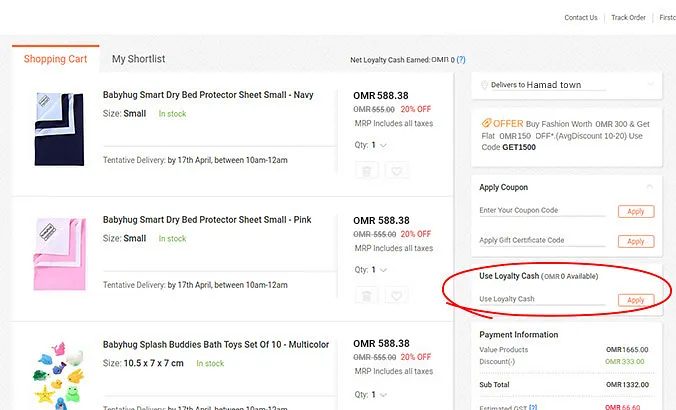 You can check out our Shipping Policy and Payment Policy for more details.
5. How do I track the Loyalty Cash I have earned?
5.You can track your earned Loyalty Cash by logging in and going to the My Account section on Firstcry.om You can track the Loyalty Cash earned against each order that you have placed in the "Cash in My Account" section.

6. What happens if I return / cancel my order? 
Earning Loyalty Cash -
If you return/cancel your complete order, you will not be credited any Loyalty Cash against that order. In case any part of your order is replaced, you will receive the Loyalty Cash earned on the basis of the new product delivered to you and if you return any part of your order, the Loyalty Cash against that product(s) will not be added to your account. 
Redeeming your Loyalty Cash -
If you return/cancel a product for which you have paid with Loyalty Cash, you will receive a gift certificate from us for the same amount as the value of Loyalty Cash redeemed. If the entire order is returned/cancelled, the loyalty cash will be added back to your account 
7. Will my Loyalty Cash expire if I don't use it?
Loyalty Cash earned by you will expire on 31st March of every year from your FirstCry Loyalty Cash Account, if no new order has been placed on or after 1st April of previous year. E.g. Loyalty cash earned by you during the year 2020-2021 will expire on 31st March 2021 from your account, if no new order has been placed on or after 1st April 2020 till March 31st 2021.
Personalized Product's FAQ
1. What are Personalized Products? 
You can personalize a few products according to your own choices and requirements. 
2. Where can I find Personalized products? 
'Personalize' tag is present on all products which can be personalized.   
3. What all Personalization can be done? 
Every product will have a different set of personalization. Some will allow you to add text on your product, some may allow you to choose a design for your product. Similarly you can personalize your products in many different ways.  
4. Can I return a Personalized product? 
No, we do not accept returns on personalized products.  
5. Can I edit my Personalization after I have placed my order?
Yes you can edit your order if your 'Order status' is 'Not Shipped'. To edit your order please 
click here.
6. Can I check status of my Personalized order?
To check the status of your Personalized order please 
click here.